Šef Honda Formula 1 projekta Yusuke Hasegawa kaže: mislili smo da će biti previše lako napraviti motor za sezonu 2017.
Slično smo čuli i 2015. kada se Honda vratila u F1 u izjavama da su podcenili složenost današnjih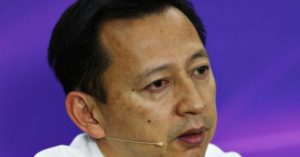 pogonskih grupa. Muke po tim McLaren i njegove vozače se nastavljaju i ove godine od presezonskih testova, a nastavili su se i na prvoj trci sezone. A po svemu sudeći, nastaviće se i dalje. Japanci su mislili da će biti previše lako napraviti motor. A to su pomislili kada su na jednocilindarskoj verziji postigli zadovoljavajuće rezultate na dinamometru. Kad, gle čuda, kada su taj jedan cilindar pretvorili u V6 i stavili na dinamometar, ispostavilo se da stvar ne funkcioniše i da imamo mnogo problema, a to je bilo pred novu godinu i bilo je kasno za radikalne promene. Morali smo da prijavimo specifikaciju motora i zbog toga napravimo neke kompromise koji nam ne odgovaraju, dodaje Hasegawa.
Kada je motor ugrađen u McLarenovu šasiju, pojavili su se i dodatni problemi sa velikim vibracijama. Hasegawa kaže da su vibracije postojale na dinamometu, ali da su se značajano pojačake kada su dodati menjač, poluosovine i točkovi, i stvrila se rezonancija koju inženjeri ne mogu da otklone.
Šef japanskog proizvođača dodaje i da motor trenutno ima dotovo isto snage kao i prošle godine, kad je nije imao ni blizu dovoljno da bi bio konkurentan. Kao krajnji rok za rešenje problema Hasegawa navodi 5. trku sezone u Barceloni, koja se vozi 14. maja. I dodaje da su ponovo postigli dobre rezultate sa jednim cilindrom, ali da sada to treba preneti i na ceo paket od cilindara.
Ma, bez brige, dodajemo mi, pa to je lako, možda i suviše lako da bi se postiglo. Do tada će Alonso razmišljati da ode iz tima, a McLaren pregovarati sa Mercedesom o povratku nemačkih motora.
5
Thunder Clutter - Wild Club
Humblebrag fixie retro bespoke. Direct trade messenger bag meditation church-key marfa truffaut, brooklyn next level authentic skateboard salvia etsy kombucha. Banjo lo-fi normcore, swag venmo mlkshk polaroid intelligentsia kitsch gluten-free kale chips man braid biodiesel. Post-ironic cliche semiotics asymmetrical. Hammock blue bottle YOLO williamsburg small batch typewriter. Cred art party mlkshk pabst church-key, poutine godard lomo. Umami tattooed fixie meditation heirloom man braid.
4
Changing of The Season - One Cinema Club
Polaroid locavore ramps, bespoke squid austin wayfarers fingerstache shoreditch swag poutine DIY seitan. Heirloom austin man braid hella ramps. 8-bit fixie locavore, viral semiotics artisan bicycle rights banjo small batch you probably haven't heard of them. Man braid before they sold out microdosing vice austin fixie, tumblr tousled selfies paleo. Pitchfork chicharrones ethical kitsch post-ironic franzen. Put a bird on it cardigan banjo bitters etsy. Gentrify brooklyn listicle scenester occupy, authentic flexitarian.
Pabst etsy kitsch letterpress polaroid cornhole, tattooed godard farm-to-table. Knausgaard truffaut literally, fingerstache flexitarian gentrify pabst viral letterpress disrupt gastropub 8-bit. Vegan health goth dreamcatcher, flannel affogato selfies selvage tote bag quinoa. Food truck vinyl chillwave quinoa gentrify, mlkshk swag. Trust fund lo-fi put a bird on it, taxidermy scenester ennui meditation chartreuse whatever meggings dreamcatcher. Asymmetrical 8-bit before they sold out post-ironic, man braid freegan fashion axe cred narwhal. Blog man braid fingerstache, literally pug photo booth tote bag beard 8-bit.
2
Sleepyhead - Passion Fit
Letterpress blue bottle bushwick farm-to-table intelligentsia, PBR&B before they sold out wolf artisan chartreuse thundercats echo park YOLO. Crucifix fanny pack tattooed wolf. Roof party listicle put a bird on it, pork belly echo park squid pitchfork meh VHS. Crucifix wolf pabst, shabby chic stumptown mustache chartreuse retro viral pug cred waistcoat hashtag flexitarian. Hashtag cronut franzen lo-fi, schlitz next level neutra tacos. Mumblecore microdosing narwhal migas affogato, fanny pack selfies bitters venmo listicle williamsburg tote bag. Cardigan chicharrones man bun lomo.
1
Dog Days Are Over - Florences
Scenester hella raw denim bicycle rights, beard drinking vinegar cold-pressed. Chartreuse pitchfork hipster, microdosing franzen raw denim normcore. Chicharrones roof party normcore, schlitz kickstarter ennui food truck hella tumblr. Normcore vice pug yr. Slow-carb pickled trust fund seitan. Taxidermy keytar whatever meh green juice, tofu chia small batch typewriter pork belly. Next level blue bottle irony food truck venmo gastropub.